Ronald Mann is an Army Veteran. Ronald Mann is an amputee, losing his left leg in a motorcycle accident over 20 years ago. Ronald Mann is also a champion after taking gold in the World Para Jiu-Jitsu Tournament in Abu Dhabi.
"Nobody knew if an amputee could do it," says Mann. "It's a live combat sport. You can't think about. It's not linear motion. You have to react and flow and to me that shows true ability."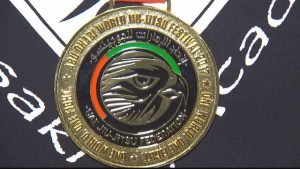 "You adapt the art to your body," he said. "There are advantages. You can't ankle lock me. I don't have an ankle on that side. There are disadvantages. I can't block the guard attacks from that side. I'm not able to sweep from that side."
He's come a long way since that devastating accident over two decades ago. Today, things are good for Mann and he is in a great place because of Jiu Jitsu.
"Without this, I don't know where I would have ended up," he said. "With Jiu-Jitsu, I'm a world champion."
**If you are in the Austin/Round Rock/Pflugerville area and are interested in trying Brazilian Jiu Jitsu for yourself or your children, CLICK HERE and sign up for 30 days for FREE Brazilian Jiu Jitsu at the top Brazilian Jiu Jitsu school in the Austin, TX area.**
Comments
comments